How to Decorate Your Wedding Tables
To decorate the tables at your wedding successfully, you will be turning functional furniture into an integral part of your wedding theme. Your guests may not notice all the fine details of your centre-pieces, but they will notice if the room looks more functional than decorative. Make sure each table is part of the overall decorating scheme to be enjoyed and admired. Here we share some of our tips to decorate your wedding tables.
Choosing your wedding tables
If you are short on space, the first of our tips is to choose small banquet tables in oval or round shapes. These create an elegant setting and allow for more people to sit in comfort in comparison to rectangular wedding tables. Sitting in small clusters also makes socialising easier so you speak with more people than just your neighbours and those sitting opposite.
Be creative with your arrangement of wedding tables. A U-shape, X-shape, T-shape, H-shape, 8- shape arrangement for buffet tables offers more distinction than a straight line of tables.
The head table, where the bride and groom sit, is the most important table in the room so be sure to arrange an attractive backdrop that will enhance the wedding photographs. Do the same with the cake table.
Covers for wedding tables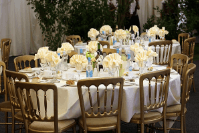 White is the traditional colour for wedding table linen, and you can choose from plain, patterned or made from lace. For some, white is a stark colour, so our tips are to choose either taupe or grey which gives a softer feel. Our tips to add flair and distinction to the table decorations include choosing coloured cloths that will add drama and also conceal stains more easily. Use streamers, ribbons, or layered cloth napkins to create a central runner or add colour to the tablecloth. Patterned or lace cloths give you more textural detail and you can drape cloths along the edges of the table for greater visual impact.
Sprinkles
Adding lightly sprinkled items is a fast and inexpensive way to decorate wedding tables. Sprinkles can be combined with centre-pieces or used on their own for more simple designs. Our tips for sprinkles on wedding tables include:
☙ Glitter or confetti that matches the wedding colours
☙ Rose petals or other flower petals is a traditional option
☙ Dry leaves for an autumn wedding
☙ Faux ice cubes for a winter wedding
☙ Glass beads or rocks in the theme colour of the wedding can add glamour
☙ Mini rose buds
☙ Small sea shells for a beach-side wedding
Place Settings
While place settings must be functional, these tips can make them beautiful as well.
☙ Choose upgraded china, cutlery, and glasses for immediate elegance
☙ Use elaborately folded napkins to decorate individual plates
☙ Add decorative place cards to assist with seating charts and add a formal flair
☙ Coordinate colours of china, napkins, tablecloths, and other items for an integrated, professional look
☙ Decorate chairs with covers or ribbons to further extend the décor
Choosing the Right Centrepieces
A centrepiece is the most prominent and eye catching item on any wedding table. Try these centrepiece tips for unique and beautiful decorations.
☙ Alternate short and tall centrepieces to provide visual appeal
☙ Incorporate the bridesmaids' bouquets and bridal bouquet as part of the centrepieces to save money
☙ Create breakaway centrepieces that can double as wedding favours
☙ Create edible centrepieces for tasty decorations, such as carved vegetables, a fruit bowl, chocolates or other treats
Here are some suggestions as to designs for centrepieces if you do not want the traditional flower arrangement:
☙ Use different sized, opaque round balloons with tassel
☙ Spray branches in metallic silver or gold, cover with flowers or sit small LED lights the branches.
Lighting
How a reception is lit can greatly enhance the atmosphere, and many decorating tips for a wedding incorporate different light sources as part of the décor. Options include:
☙ Candle centrepieces or tea lights as centrepiece accents
☙ Floating candles or candles on mirrors to reflect the light
☙ Fairy lights strung along the sides of the tables and wrapped in tulle or lace
☙ Rope lights along the edges of the tables
Types of Tables
It's important not to forget any tables when making or purchasing your decorations. Write down each table that will be at your wedding reception and the decorations you plan to put on each.
What to Avoid
It is easy to go overboard with decorations, many times the simple approach is both elegant and beautiful. Our other tips as to what to avoid include:
☙ Crowded place settings that can inhibit guests from enjoying their meals
☙ Tables with too many guests seated at them
☙ Centrepieces that are too large and block conversation